It is said that over six million Americans have some sort of nail fungus infection or other. Nail fungus can be irritating and painful to any individual as it may disrupt routine work and daily life. Fungus enters the nail through tiny cuts or wounds and then, spreads its infection, causing a sickly, yellow color over the infected nail area. In a matter of days, the fungus inflicts further damage and the nail area becomes grotesquely swollen, resulting in an ugly look and obnoxious odor.
Combating nail fungus is difficult, unless you take the right treatment. Many dermatologists prescribe anti-fungal medications to treat such nail fungus infections. Lamisil is one such anti-fungal drug that treats all kinds of fungal infections in hair, scalp, nail, body etc. Lamisil works especially well with nail fungus infections than other drugs like Sporonox. However, Lamisil cannot be taken without medical advice and you may need to follow a few of the below ways to avoid trouble while using Lamisil.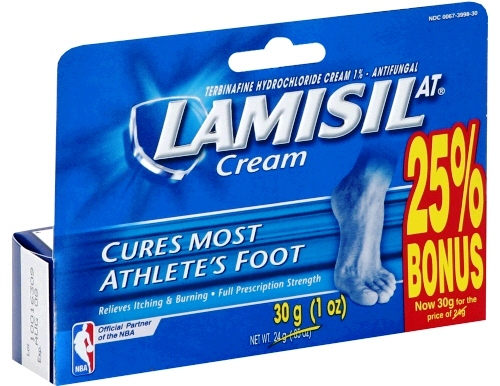 1. Interactions with other drugs: Lamisil does not go well with other drugs like cimetidine and rifampin; blood thinners like warfin; anti-depressants like fluoxetine, fluvoxamine, paroxetine; tricyclic depressants, MAO inhibitors, beta-blockers such as atenolol, bisoprolol, timolol and others. For more relevant information, read the medical data that comes along with the drug or consult your doctor.
2. Dosage instructions: One pill a day for 6 to 12 weeks is the ideal dosage for Lamisil. Better if you take the drug with 8 ounces of water. If you have problems consuming the tablets, mix the oral granules  into a spoonful of pudding or mashed potatoes. Avoid mixing the drug with applesauce, fruit juice, acidic foods. Topical application of Lamisil cream is also a great way to cure nail fungus.
3. Side effects: Like every other drug, Lamisil has its own list of side effects which include – nausea, vomiting, abdominal pain, diarrhea, headache, rashes, changes in taste and drowsiness. Most serious side effects lead to liver and kidney damage. This is why it is recommended that people who use Lamisil for a long time take blood tests regularly to ensure their liver and kidneys are working properly. Some other side effects include joint pain and swelling, fever, chills, body aches, flu, weight loss, itchy skin, rashes, sore throat, headaches, stomach pain, heartburn, fatigue, decreased state of sensation etc.
4. Do's and Don'ts before taking Lamisil: Lamisil cream can be applied topically on the infected nail area. However, it is better to consult a physician before taking the drug if you have a history of liver, kidney and auto-immune diseases like diabetes, lupus or psoriasis. Since the drug falls into FDA's pregnancy B category, you can take it even if you are pregnant or want to be pregnant. It will not affect your unborn baby. Caution should be there while giving Lamisil to children. The drug can have serious  side effects in children of very young age.
PLEASE NOTE : OnlinePharmacyForum.Com recommends personal consultation with a doctor. The dangers in buying medications online include the online drugstore selling counterfeit, expired or contaminated medications to you. Sometimes the drugs that you receive may have been prepared by unethical means or using unusual substances. This is why you should buy drugs from a licensed and FDA-approved pharmacy; after consulting with a doctor and getting a valid prescription.